Duong Lam is an ancient village located in outskirt of Hanoi. It takes about one and a haft hour from Hanoi center to this area. This is a famous place associated with many historical stories about two kings of Vietnam: King Ngo Quyen and King Phung Hung. Up to now, Duong Lam still maintains the characteristics of pure Vietnamese ancient village with different values.
Ancient houses at Duong Lam village
Duong Lam ancient village is very famous for ancient houses system. The main material to build the houses here is laterite – very popular material in this area. Local people were dug the laterite from underground and hew them to be different shapes, normally rectangular blocks, to build and decorate the houses.
Nowadays, Duong Lam village still conserves about 800 ancient houses. The structure of a normal ancient houses in Duong Lam includes the main gate, the garden, the yard, the main house, outbuilding, kitchen, well and livestock barn. The main house is the most important part where all the family live and worship ancestor. Each family has from three to five generations stay together. Few houses here were built from 1803 and many other were built from middle of XIX century. Around the ancient houses are the paths, green gardens with betel and areca trees. Around the village are banyan trees, village's gate, rice fields, temple, wells. All of them combine together and make an unique ancient village with the features of ancient Vietnam, a peaceful area that is very hard to find in the modern life of the cities.
Cultural historical relics at Duong Lam ancient village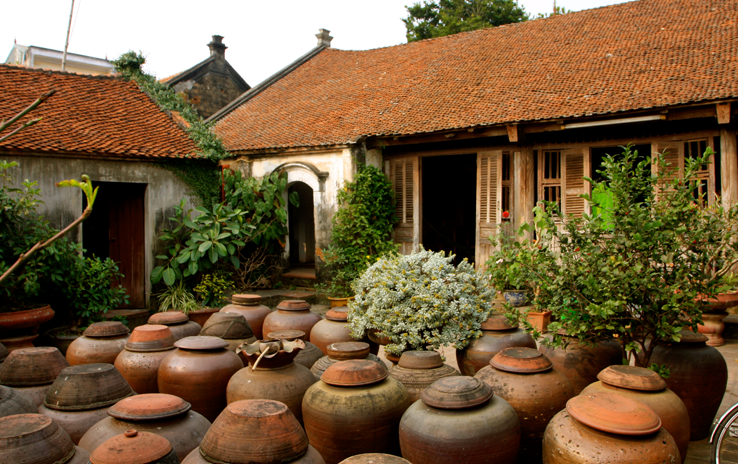 Duong Lam is not only famous for the hundreds years old ancient houses but also for many cultural and historical relics.
Duong Lam village has total sixteen cultural and historical relics, including temples; pagodas; Stone steles. Seven of them were recognized as national relics. Mia pagoda is a representative relic here. The pagoda still reserved many Buddha statues and worship items. With 287 statues, Mia pagoda is one of the pagodas had the largest number of Buddha statues in Vietnam. Mong Phu village gate also is one of the important relic here. It has a great value in traditional architecture.
About cultural intangible heritages, Duong Lam has 21 ancient stone steles. Through the information at the stone steles, the historians know more about the history of the area and the commune culture. Especially, the stone stele "Phung Tu Bi" was carved about the story of two Kings that were born here: Ngo Quyen King and Phung Hung King. Duong Lam also has many traditional festivals to honor the national heroes.
This peaceful village is the hometown of many specialties: Sugar, Mia Chicken, soybean sauce… Coming here, tourist should not forget to buy them as a small gift for friends and family.
Duong Lam converges all cultural elements of an representative Vietnam ancient village. In 28th November, 2005, after Hue, Hoi An old quarter and Hanoi Old Quarter, Duong Lam was organized as a complex of national relic.
Duong Lam is becoming an attractive destination for tourist who wants to find a truly authentic Vientam.